Art to Change the World  (ACW) is a non-profit, diverse coalition of artists, educators,
scientists, topic experts, and other change makers who join forces in service of positive social
change. We employ the arts, education, audience engagement, and organizational partnerships to provoke discussion, reflection, and action.  https://www.arttochangetheworld.org/mission
                                           Support a Topic Team.  Become an ACW Team Member!   $1,000.00
ACW will host a two-week event with exhibition, performances and workshops around the theme of See. Say. DO What's Your Issue? from Oct. 5-14, 2018. Over 20 established and emerging artists and their topic expert team members are creating social and environmental justice works, transforming the cutting-edge art space Squirrel Haus Arts in South Minneapolis into an inviting and magical universe which draws the visitor into a thought provoking, interactive journey with the intent of inspiring positive action in our community.

Do you have a specific social topic you would like to sponsor? The artist/topic expert teams need about $1,000.00 for both of them to research, travel, buy art and educational supplies/materials. Each artist has selected a topic expert (or 2). We might also call these integral team mates a "primary source voice." ALL of the team members learn from each other.  You will become a member of the team. We value your voice.
Support benefits included (all optional) :
Studio visit  * Listed on website and programs * Two tickets to VIP Event * Monthly artist news/networking/ events emailed * Access to the Art to Change the World forum * Membership in book club * Invitations to celebrations and gatherings * ACW coaster set *  ACW Hot Beverage Mug * ACW Steel water bottle. Invitation to an authentic Maine Seafood Chowder dinner created by native Mainer Barbara Bridges  OR   A small artwork created by an ACW Artist.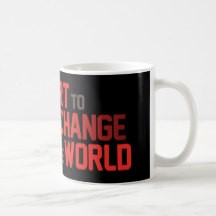 Donate Here  https://www.arttochangetheworld.org/donate/ Post Director, Barbara Bridges, to indicate the amount and the artist team. info@arttochangetheworld.org.
You will receive a letter for your taxes.  Call to discuss details with Barbara if you have questions: 612 845 0416.
 
Project Description and Workshop   – Nikki McCoomb Topic:   Art is My Weapon

The photo stories are made to raise awareness in these areas:
Remembering forgotten victims taken by gun violence in Minnesota
Prompting people with information being compelled to come forward in unsolved cases
Reaching policy makers and elected officials to support the campaigns efforts
Ensuring community is aware of unsafe gun laws being authorized within legislation
Reaching those who need help in removing themselves from dangerous living situations or barriers that may have them feeling the need to possess and use illegal weapons in crimes against others
Sharing stories of mental health and other underlying issues that lead to violence
Giving those who suffer from any of the topics of focus a voice to use through art
Not being a policy maker or an elected official or a person who can change the laws and change people's minds and behavior by myself I needed to find a way to send powerful messages for others to unify and support. I chose photos to do this. I had absolutely no idea that this campaign would have an immediate demand for constant attention and I just can't do it alone, BUT I MUST DO IT ………………
The photo stories are made to raise awareness in these areas:
Remembering forgotten victims taken by gun violence in Minnesota
Prompting people with information being compelled to come forward in unsolved cases
Reaching policy makers and elected officials to support the campaigns efforts
Reaching those who need help in removing themselves from dangerous living situations or barriers that may have them feeling the need to possess and use illegal weapons in crimes against others
LAST BUT NOT LEAST: Giving family members of victims lost to gun crimes a powerful yet wordless way to share their messages, hope, pain and stories through my images such as this image that may have prompted a tip to investigators within 12 hours of social circulation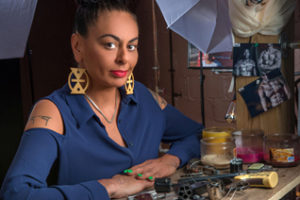 Biography 
Nikki McComb's public safety campaign titled  #ENOUGH uses art as a catalyst for change and social disruption. Taking on the trenchant problem of illegal firearms, McComb uses photographs and video to reach people from the street level to the legislative arena and to help provide communities an outlet where they feel safe enough to seek help, empowered enough to give help, provoked enough to work harder to unify, and unified enough to make change collectively through art. For seventeen years, McComb has applied her artistic interests and skills to working relentlessly in North Minneapolis and surrounding communities in youth and family achievement. In addition to being an art educator, she has organized exhibitions, including Art Is My Weapon, a program whereby local artists select decommissioned guns to then create new work for display. McComb is The Creative Community Coordinator at Pillsbury United Communities She is also a 2017 recipient of The Jerome Hill Artist Fellowship, a 2016 recipient of a Micro Grant for photography and a 2014 and 2015 recipient of several community leadership awards.  Artist Minneapolis, Minnesota  Read More