Reinventing Holiday Gifting – The ACW Registry!  Sell your work on ACW website. ACW Artists earn 100% of the price.   https://www.arttochangetheworld.org/product-category/support-us/
The ACW Registry is more than a store. Our registry is not Transactional.   We are building a Relational community. The ACW Task Force voted unanimously:
1. ACW Registry Artists must be active members of ACW. ACW takes no fees for this project and must pay the bills somehow.
2. ACW Registry artists must commit to adopt, or have someone else adopt, at least one object from the registry per year.  There are works for as little as $20.00 on the registry.
3. Please commit to arranging transfer of the work to the buyer within one week.
Lessons, Performances and Studio Tours are also encouraged.
All ACW members are invited to send  3 works to put in the ACW registry.   No fees… the buyers contact you directly.  We are trying to re-invent how we build community.  Check it out:  https://www.arttochangetheworld.org/product-category/objects/
Please tell us when a work is sold and who bought it. info@arttochangetheworld.org ACW will add the person who adopted the work to our website. Send another work to replace the sold item.  Please commit to delivering the work to the buyer within one week.
See details for submission below.
ACW will be building out our store for this holiday season. All ACW members can send in three works for sale. Choose several price points: One under $100.  No fees. Buyers contact you directly. info@arttochangetheworld.org 

Include in this format -ALL ON ONE EMAIL:
jpg image
Title and your name
Media
Dimensions
Price
Contact  Address AND Website
Artist Statement (Include something personal -people respond to your connection with the work).
______________________________________
Here is an example from Sara Hanson.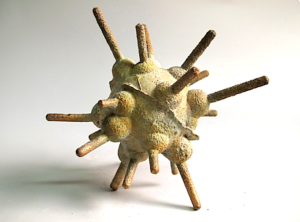 Orbital Debris   Sara Hanson
Bronze
7″x7″x7″
75.00 – 150.00
Contact Sara Hanson  sarahansonwow@gmail.com  sarahansonwow.com/sarahansonwow@gmail.com
Choose from one-of-a-kind sand mold castings of various colors, sizes and shapes in aluminum, iron and bronze.  Orbital Debris is a collection of disintegrated and transformed fragments from the earth's atmosphere and specimens of the deep sea – spherical remnants of heat, time and space that offer observations of chance and potential of origin and life.