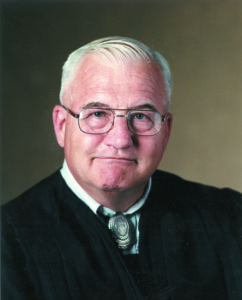 Born 1940, Little Falls; Gonzaga University (B.A., 1962), Lt. U.S. Marine Corps (1962); University of Minnesota (J.D., 1967); private practice, Hibbing (1967-84); Asst. Public Defender (1967-84); Adjunct professor, Hamline University School of Law, 1990-2015; Adjunct professor, Mitchell Hamline School of Law, 2015-present; married; three children. Appointed April 1, 1984, elected 1986, 1992, 1998, 2004. Retired on April 4, 2008.
Starting in 1959 as a 19 year old college student, Judge Randall spent a year in Norther Alaska in a K-12 school for native Inuit students.  That concern for the rights and well being of minority citizens and under-privileged people has marked his 51 year career as an iron range public defender and and 34 years as a judge on the Minnesota court of appeals.
Center City, Minnesota.