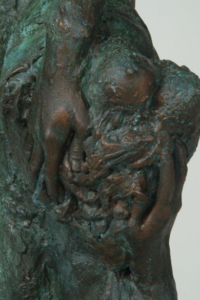 Nature Abhors a Vacuum Series:  "Pregnant Thought" (cement, resin, fiber, tennis balls, bronze coat, patinas) Detail. The Epoxy Resin Store, considers the convertibility of resin as what makes it one of the best materials for art. So do I.
Artist Statement: " I am a user-up of discarded things. I do a lot of mental tilling in this world of throw-aways, and find the vacuum a fitting metaphor for some deep-cleaning of the mind…what's in the belly-of-the-beast, what are we trying to clean up with this carcass of electricity, can we actually hire someone else to clean up our mess? How many attachments do I need? So bring me your tired, your poor, your broken vacuums yearning to be free."  NFS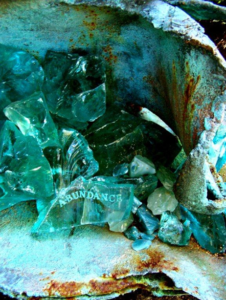 The Vessel Series:  "Abundance" (cement, metal, glass, bronze coat, patinas, resin, water) NFS
Artist Statement: "Perceived scarcity seems to fuel many of the imbalances of this world, creating an unlevel playing field.  With strategy instead of force, we can be competitive yet not unkind, determined but not angry. We can have victories without victims. The water element is a reminder to myself to be the nourishing rain whenever possible, washing away that perceived scarcity wherever I find it, and leveling the playing field."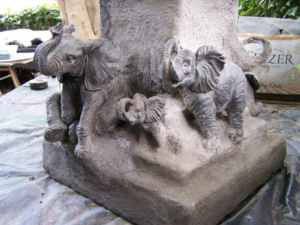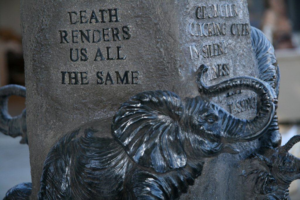 The Obelisk Series: "The Ones in the Living Room", in progress  (fiber, cement, wood, resin, sand  )
Artist Statement: "The Obelisk Series is an on-going exploration of our biases, our silent assumptions, and the profound dualities in our lives…intimacy and separation, growth and decay, self and world, shelter and exposure, the kiss and the kick, the loud cheering-on of a favorite team on tv while there are elephants sitting silently beside us. These works incorporate my quiet affection for the power of word-images and their ability to help us see with new eyes."
---
                                                                                 Why I Am Participating in ACW…
…Because without art, and those who support it, history would be written on water. And sometimes dirty water at that.  As I help write a few pages of history with the raw materials available to me, Art to Change the World is an opportunity to participate more fully in my world…and to shape the forces that are creating it.
…Because for those around us and coming after us, sorry is nothing without change. This is a time in history when creative thinking can be, must be masterfully productive in our prime contributions to humanity.
…Because in a life that barely separates itself from the art it creates, I am singularly uninterested in the visual equivalent of mashed potatoes. Or in the mundane act of living an unexamined life. There is muscle in imagination. I'm betting that the combined creativity in ACW has enough muscle to move mountains.
…Because there is a special satisfaction in creating rather consuming. To do so in the company of some robust creative minds is not to be taken on lightly. It is like catching a rising tide. You know, the one that lifts all boats. Collaboration is a renewable resource that sows hope, surprise, and inspiration. It's like playing tennis with a better player:  it makes me up my game. Or hitting with a partner who expects me to cover my part of the court. Barbara is that trusted beacon summoning us to up our game.
 …If you are in my life, you are in my art… and one of the forces that shape it.
Selected exhibitions
The Art and Cultural Center, Fallbrook,CA. (6th Annual Sculpture Exhibition) 2002
Michael Johnson Fine Art, Fallbrook, CA. (Group Exhibition), 1999-2007
The Art and Cultural Center, Fallbrook,CA. (5th Annual Sculpture Exhibition) 2000
University of California, Irvine, CA. ( Solo Exhibition, Women's Center), 1999
The Art and Cultural Center, Fallbrook, CA. (4th Annual Sculpture Invitational), 1999
Artworks of Fallbrook, Fallbrook, CA. (Group Exhibitions), 1998-2001
Gallery Blu, Palm Desert and Palm Springs, CA. (Group Exhibitions), 1996-99
Trios Gallery, Solana Beach, CA (Group exhibitions), 1996-99
La Quinta Sculpture Park, La Quinta, CA. (Solo and Group Exhibitions), 1993-97
New England Fine Art Institute, Woburn, MA. (Group Exhibition), 1993
Palm Desert Theater, Palm Desert, CA. (Set Design for Equus, sculpture from the Pegasus Series), 1993
Gouthier Fine Art, Palm Springs, CA. (Solo and Group Exhibitions, Sculpture and Painting), 1993-94
Sho-en Outdoor Sculpture Center, Ramona, CA., 1992-93
International Conference on Contemporary Art, Cozumel, Mexico (Group Exhibition, Sculpture and Painting), 1990
SDMA Artists Guild, East County Performing Arts Center, El Cajon, CA., 1990
Artist Space at South Fair, Del Mar, CA., 1989
San Diego Museum of Art, Annual Juried Exhibition, San Diego, CA., 1988-89
International Art Competition, Award of Merit, Pfeifer and Ingbar Galleries,New York, New York, 1988
Corporate Exhibition Program, Mesa College, San Diego, CA. (Science Applications), 1988-89
Ilan-Lael Foundation and Circle Gallery Invitational, San Diego, CA., 1988
Olympic Arts Festival, Riggs Gallery, Los Angeles, CA.( Solo Exhibition), 1984
The Quincy Art Center, Quincy, IL. (Solo Exhibition and Lectures), 1976-77
Lindenwood College, St. Charles, MO, (Solo Exhibition), 1976
USA Bicentennial Traveling Exhibition (Solo Exhibition), 1976
Women in the Arts, National Traveling Exhibition, 1975
awards and recognition
Artist in Residence, Distinguished Fellows Leadership Institute; Sandy Point, Maine; Summer 2008
Selection for The California Art Review, 1989
Selection for Who's Who in America, 1988
Selection for Encyclopedia of Living Artists in America, 1988
Selection for the California Arts Directory 1988
Television Specials (three), The Artist, solo interviews, 1985
U.S. Bicentennial Artist, State of Missouri, 1976
Outstanding Young American Artist (one of five), La Review Moderne des Art et de la Vie, Paris, France, 1968
education
B.A. in Studio Arts, University of Missouri (Honors in Studio Art, English Literature, and Humanities);
Lifetime Teaching Certification, Mortar Board; Vice President, University Student Union; Reader for the Blind)
Graduate studies in Studio Art, Lindenwood College, St. Charles, Missouri
Graduate studies in Humanities, Northeast Missouri State College, Kirksville, Missouri
professional experience
Charter 100 Professional Women 1979-99, Board Member 1981-1991
Combined Organization for the Visual Arts (COVA) 1997-99
Guild Member, San Diego Museum of Art 1988-92
Golden State Sculptors' Association 1990-92mniedner@msn.com
California Arts Council / State-Local Partnership Steering Committee 1981-85
Instructor, Art Students League, Scottsdale, AZ., 1984-85
Columnist and Art Editor, Penasquitos Sun,, San Diego, CA., 1980
Instructor in Studio Art, Lindenwood College, St. Charles, MO., 1976-77
Grant Review Panelist, Missouri State Arts Council, 1974-78
Department Chair, Art Instructor, St. Charles Senior High, St. Charles, MO. 1967-69
Art Instructor, Berkley Senior High, St. Louis, MO. 1965-67
selected collections
Hilton Corporation
Bank of America
Michael Johnson Fine Art
E.F. Hutton
Hotel Del Coronado
Wells Fargo Bank
Monsanto Corporation
United States Embassy (Rome, Italy)
The Johnston Group (Los Angeles)
madelynne engle


Engle Studio (by appointment only)
5596 N. Dixboro Rd,
Ann Arbor, MI 48105
cell phone is 760-468-7811
On the Web: EngleStudio.com
E-mail: m@englestudio.com