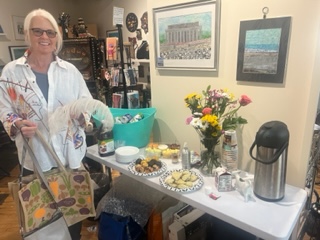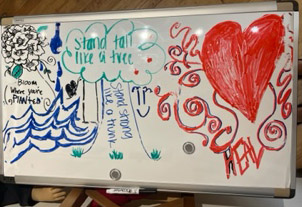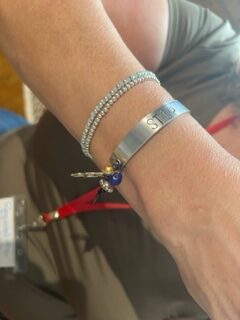 Today, I'm Alright I.C.O.N
Evaluation:
What did you like about this experience?
Very supportive environment
Everyone was thoughtful, good experience
Great
This was wonderful- all of it
getting to know more about people [unreadable]
it was moving
choosing the objects, simple explanations, and nervous supplement
[unreadable] options/exercise
the getting of the objects and making the bracelets
everything especially choosing an object from [unreadable]
instructional, diverse ages and experiences
open honest environment
I loved the way that Sandy very fluidly and calmly lead this content
allowed me to be vulnerable
What will you take with you from this experiencee?
Heart holding, strategies for prayer and meditation
know more, speak less
deep breathing techniques
tangible steps to practice
the 54321 things
about the shell, reminds me of my dad
practical strategies
[unreadable] tools in my tool belt
that i am not alone when it comes to having hard times
caring, [unreadable] mantras and (54321 exercise)
new practical mantra and grounding
continued positive outlook on coping skills
This new idea of windows of tolerance
what my vulnerabilities are and how to hanndle it
What would you have liked to see more of during this experience?
Everyone likes the same [unreadable]
Getting better with anxiety
more offerings like this- was really helpful and inspirational
nothing
it's been good
offer more sessions
[Unanswered]
myself talking more, or being more talkative
it was great no critiques
it had a good balance of action and sharing and making
I think it was great. I wouldn't change anything
focus on trauma and children
Maybe make it a little longer
unsure, i came in not knowing what to expect
Is there anything you would have changed?
No
NA
Alot
no, it was great -more to love
No
No
add resources for people- practical guide
No
talking a bit more and feeling alot more comfortable here and talking
No
no, fit my needs and learned alot of useful [unreadable]
bigger space
No
N/A
Thank you for sharing part of yourself with the group.
Peace