Welcome!
The Newsletter is  a member benefit and the place where the ACW membership stays informed, builds community and finds opportunities.
Each article should have the what, where, when, and who front and center.  Always include  a hot link for the reader to learn more.  Send one picture.  Please submit the copy exactly as you would like it to appear.  You can do this right on the email to me drb@bridgescreate.com
I  know you understand that when we have 15-20 articles…it becomes unmanageable for me to chase for missing elements and hotlinks.  Thanks so much for your mercy!!
ALL News welcome.  Exhibitions, projects, honors, opportunities, art equipment for swap or sale, editorials welcome!
Barbara
__________________________________________________________________________________
Example: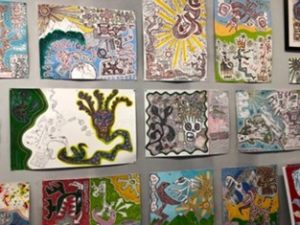 SEPTEMBER'S GALLERY SHOW AT HOMEWOOD STUDIOS
"inside my hands: the covid year"
drawings and poems by dougie padilla
Opening reception – Friday, September 10th from 6pm to 9pmdougie will offer a poetry reading on Tuesday, September 28th at 7pm
Our third show since reopening the gallery after Covid continues artwork that expresses itself in vibrant colors, exuberant gestures and inviting vistas.  The drawings and poetry broadsides by dougie padilla do just that.  As his title suggests, the work presented was produced during our time of covid and seem an antidote to the sequestering and darkness we all experienced.
About his work, padilla writes:
1) during the covid year I went dynamite creative nuts more than ever and painted and drew and wrote poems intensely and incessantly and obsessively about this quite insane and oft delightful world we live in, and 
 2) this show of drawings and poems are just the tip of that iceberg.
Please note:  Plymouth Avenue, where Homewood Studios lives, is currently undergoing a complete rebuilding and is more or less impassable.  Please go to our website – www.homewoodstudiods.com – for current driving and parking directions.