Today, I'm Alright I.C.O.N. Workshop
June 4, 2022 @ 9:00 am

-

3:00 pm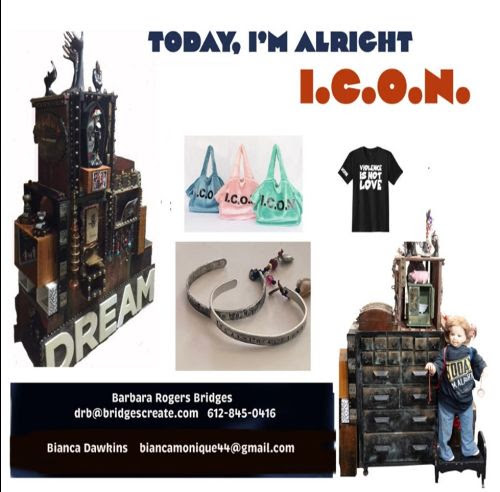 Workshop  June 4, 2022, Solar Arts Building
Read More:  https://www.arttochangetheworld.org/i-c-o-n-today-im-alright-partnership
Post info@arttochangetheworld.org  to register with your name and phone number.
Studio 215- 711 NE 15th Ave, Minneapolis, MN 55413
9:00- 11:00  2 spaces left
1:00-3:00   6 spaces left
Participants earn $50 stipend to attend
The I.C.O.N/TODAY, I'm Alright healing workshop invites all experiencing trauma to join the counselor (Sandra Reardon)/art teacher (Barbara Bridges)  /survivor team ( Bianca Dawkins) for 2 hours of resource sharing, art-making, conversation, and importantly – identifying strategies for change.
.The "I.C.O.N" domestic violence and the "TODAY, I'm Alright Healing" projects partner to serve the well-being of trauma victims and by extension their families and their communities.  This experience ripples out and cross-connects people who need support.
Your trauma is not terminal.   You are not broken.
You can create your own life raft of hope and resilience with practical strategies.
All the participants will be paid $50.00 to attend the healing session, provided with an I.C.O.N. bag, and T-Shirt, A TODAY I'm Alright T-Shirt, and a healing object from the cabinet, and artwork they create.  Childcare Available. Please indicate the age of the children.  They will be making art!