Structure + Connection – Reception
June 26, 2021 @ 7:00 pm

-

9:00 pm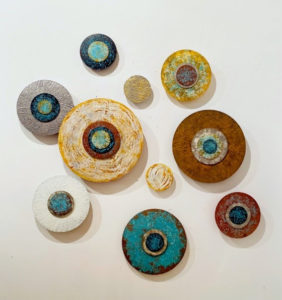 Structure + Connection
Encaustic Artwork by Jodi Reeb and Dietlind Vander Schaaf
June 26 – September 4, 2021
Artist Reception: Saturday, June 26, 7:00 p.m. – 9:00 p.m.
(MINNEAPOLIS, MINNESOTA) Practicing within the same natural medium, encaustic or beeswax, with a visual language inspired by nature's forms, gallery artist, Jodi Reeb, and guest artist, Dietlind Vander Schaaf of Portland, Maine, depart from each other and the traditions of encaustic painting in new work presented in Structure + Connection at Kolman & Pryor Gallery. Curated by Reeb and gallery co-founder and curator, Patrick Pryor, the exhibition opens Saturday evening, June 26, 2021, with an artist reception from 7:00 p.m. to 9:00 p.m. The exhibition closes September 4, 2021.
"Jodi is evolving into quite a force in the encaustic community as she's bridging the gap between sculpture and painting in her new work," Pryor says. "Dietland's work is highly sought after and extremely popular with collectors. We're thrilled to pair them in this show, in which each one's work not only complements the other's but together their artwork demonstrates the versatility and breadth of the encaustic medium."
Vander Schaaf describes herself as "very much a painter. I paint in a sculptural way, in that I build up thick layers of encaustic, then carve into those layers, often with repetitive, distinctive mark making, to add further texture and sculptural dimension to the work."
A teacher and practitioner of such contemplative practices as yoga and meditation, Vander Schaaf says her paintings are "abstracted landscapes, as well as inner landscapes where the inner and outer world meet to describe a felt experience of the world." She hopes viewers and collectors will find quietness and calm in her work.
Reeb's organic wall sculptures oscillate between painting and sculpture. Her circular pieces, referencing the spheres within nature, often overlap creating a negative space also found in many of her aluminum wall sculptures. In these sculptures, she paints with enamel and encaustic (beeswax and damar resin) on primed aluminum, then bends and twists the metal into dramatically textured organic forms. Reeb's intention with her sculptural series is to investigate a folding, opening, and evolving as a reflection of her new approach to encaustic artwork.
"We're both challenging the physical properties of translucence and structure using encaustic," Reeb explains. "At the same time, we're drawn to ideas of layering inspired by natural forms where the paintings are deconstructed as well as abstracted to create structure and connection."
The artists will be teaching an encaustic workshop at the gallery on Friday and Saturday, June 25 and 26, 2021, 10:00 a.m. until 4:00 p.m. The cost of the workshop is $350. Please get in touch with Jodi Reeb at jodi@kolmanpryorgallery.com or at 612-247-1244 for more information.
For a preview of the show, please contact Anita Sue Kolman at anita@kolmanpryorgallery.com or 612-385-4239 or Patrick Pryor at patrick@kolmanpryorgallery.com or 612-280-7812.
—————–
       Structure + Connection begins Saturday, June 26, 2021, and closes Saturday, September 4, 2021.
Artist Reception: Saturday, June 26, 2021, 7:00 p.m. – 9:00 p.m.
Kolman & Pryor Gallery is located in Studio 395, Northrup King Building at 1500 Jackson Street NE, Minneapolis, MN 55413. For more information, please call: 612-385-4239 or 612-280-7812 or email: anita@kolmanpryorgallery.com or patrick@kolmanpryorgallery.com or visit: kolmanpryorgallery.com.