Solidarity Street Gallery
September 23, 2021 @ 8:00 am

-

September 25, 2021 @ 5:00 pm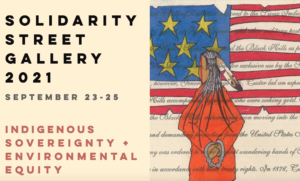 Solidarity Street Gallery
September 23-25, 2021, Payne Avenue – St Paul, Mni Sota Makoce
A one-of-a-kind arts and cultural festival centered around justice, equity and solidarity.
The SOLIDARITY STREET GALLERY is a three-day art and cultural festival along Payne Avenue, held this year September 23-25. All are invited and encouraged to participate. It aims to bring together artists, performers, poets, entrepreneurs, civic leaders, and the local community for important conversations about justice and equity.
SOLIDARITY STREET GALLERY 2021 follows the success of last year's event, which sought to unite the community amid the isolation and challenges of the COVID-19 pandemic and a national reckoning with racial injustice. We find solidarity in coming together as a neighborhood and business community through art, performance, and poetry, and jointly engaging in the search for solutions to a fractured society. This year's event will focus on the topics of Indigenous Sovereignty & Environmental Justice, centered on Native voices. The community can participate in the dialogue on these topics through curated art exhibits, music & performances, community and children's activities, and an eco-park that highlights local environmental innovations.
​
SOLIDARITY STREET GALLERY is an open invitation for everyone to celebrate and appreciate the multitude of cultural, racial, and ethnic communities who call the Eastside home. This year's intentional focus on the Native community is possible through partnership with Oyate Hotanin ("Voice of the People") who will collaborate on a large-scale art installation, performances, and curating gallery exhibits. The festival will highlight Native sacred sites, history, and traditions, as well as explore modern culture and identity of Dakota and other local Native people. We will explore key ideas of Cognitive Justice and recognize the plurality of knowledge forms which coexist. Our eco-exhibit looks to inspire event visitors to envision a 'Just Transition' to responsible and sustainable environmental stewardship as well as preservation of traditional lands and sacred sites.
​
Our SOLIDARITY STREET GALLERY 2021 festival welcomes artists from all backgrounds to share their vision in our gallery spaces and performance stages along Payne Ave, in partnership with the Eastside business community. There will be public calls for artists and performers to participate. There will also be a public call for vendors, to sell food as well as arts & crafts in street-side marketplaces. Last but not least, there will a call for volunteers from the community. They will be playing a critical role in making this entire festival possible.
See link for more info: https://www.solidaritystreetgallery.org/