Native American Heritage Month Begins
November 1, 2021 @ 8:00 am

-

5:00 pm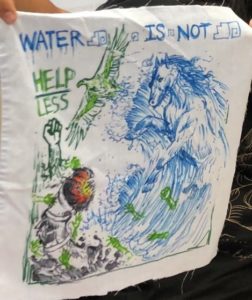 By Laura-Mann-Hill Diversity and Inclusion Coordinator.
I live near Haha Wakpa, the Mississippi River, that connects all waters and all lives where we live.The river is made of many small drops that flow together – like our individual commitments to learning and unlearning can bring us together.
November is Native American Heritage Month. Although one month is never enough time to fully celebrate or honor any cultural heritage, it is always a reminder to celebrate and honor the rich and diverse cultures and traditions, knowledge, and contributions of Indigenous people. Those who call Minnesota home live on the traditional homelands of the Dakota people who have stewarded this place for thousands of years. It has been home to and cared for and by many other Indigenous nations, including the Ojibwe and the HoChunk. I continue my ongoing journey to incorporate more practices into my life that affirm Indigenous sovereignty and Black Liberation. I recently emerged from an experience exploring this topic hosted by Million Artist Movement which included a talk with Dr. Chris Mato Nunpa: https://youtu.be/ppEpVBrgQCo
"Everyone has a responsibility to divest from anti-Blackness and to respect Indigenous sovereignty (and specifically tribal sovereignty). And for those who carry the political, legal, and social currency of whiteness and benefit from these systems that oppress and attempts to stifle the future of Black, Indigenous, and other people of color, I believe it is their responsibility to use their currency to dismantle said systems with the intention of forfeiting their privilege and positionality within this hierarchy."
 – Amber Starks
We must acknowledge land theft and genocide; learn more about the land we reside on – learn the names of places that are not colonized. Learn about land reparations and how we can honor treaties – and take action in movements like to Stop Line 3 to protect the river and us all!
(Quilt square created by Friends Mississippi River Youth Council member with Million Artist Movement)
More Resources: 
Stop Line 3: tinyurl.com/ResistLine3
Honor Treaties: http://treatiesmatter.org/exhibit/welcome/learn-more/
Mní Wičhóni Mural:
https://fmr.org/stewardship-updates/fmr-fifth-water-quality-mural-celebrates-community-connections-water
All My Relations Arts: biskaabiiyang (returning to ourselves) group exhibition investigating Indigenous Futurism http://www.allmyrelationsarts.com/
Never Homeless Before 1492:
https://indiancountrytoday.com/news/never-homeless-before-1492
Reclaiming Native Truth: https://youtu.be/SW-nYYY89D0
Say It! Sing It! Play It! In Cherokee: https://ordway.org/events/say-it-sing-it-play-it-in-cherokee
Amber Starks: https://usdac.us/news/2021/9/21/envisioning-black-liberation-and-indigenous-sovereignty
We are still seeking interest in forming an ACW Diversity Equity and Inclusion committee via email: blackartistbox@gmail.com