July 4th – Reflections on a Hypocritical Holiday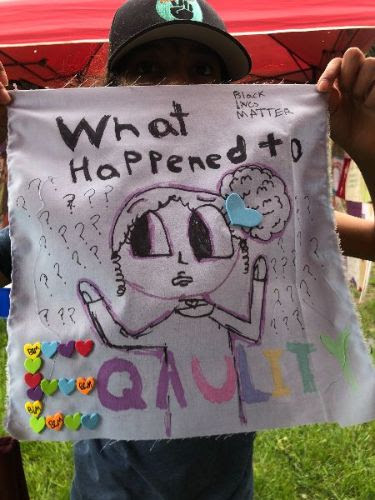 July

 – Reflections on a Hypocritical Holiday
By Laura Mann-Hill -ACW Diversity and Inclusion Coordinator
The current moment we find ourselves, from the lens of diversity, equity, and inclusion is full of tension, complexity, and contradictions. As we push for change to undo systems of oppression such as white supremacy and patriarchy, we find the other side is pushing back just as hard. In July, many people celebrate "Independence Day" but if you have ever read or listened to, "What to the Slave is the Fourth of July" by Frederick Douglass, spoken on July 5th, 1852, we are reminded of the pain and hypocrisy of the holiday.
"Are the great principles of political freedom and of natural justice, embodied in that Declaration of Independence, extended to us? ….your sounds of rejoicing are empty and heartless; your denunciations of tyrants…your shouts of liberty and equality…..are to him [enslaved people], mere bombast, fraud, deception, impiety, and hypocrisy."
There is still much to critique in the speech, including the use of the word "man" to describe people, but many truths in his words and an important call to action. How can we truly achieve equity and equality on land built on stolen land with stolen labor? Since stepping foot on this continent, colonizers have attempted to assimilate or erase Indigenous people, lands, and culture while attempting to enslave people from Africa and assert dominance over people's bodies and autonomy.
The US continues to deny basic human rights to large swaths of people based on gender, race, sexuality, ability, and other aspects of our intersectional identities.
We cannot remain complacent in our role as artists and humans and find ways as a community to support and uplift and better care for each other. We must tap into our creativity and imagination as we continue to fight for equality and access to basic human rights.
"You can't help it. An artist's duty, as far as I'm concerned, is to reflect the times."
To hear Nina Simone sing, Mississippi Goddam:
https://youtu.be/LJ25-U3jNWM
To hear the full speech "What to the Slave is the Fourth of July" by Frederick Douglass, read by actor James Earl Jones:
https://m.youtube.com/watch?v=O0baE_CtU08&feature=youtu.be