Holiday Light? Holiday Dark?
November 3, 2019 @ 12:00 pm

-

6:00 pm
Holiday Light? Holiday Dark?
An Art to Change the World Celebration
(Director: Barbara Rogers Bridges, Curator: Suyao Tian, Participating artists: ACW Members)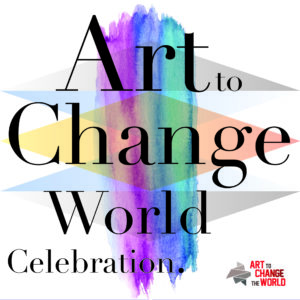 Join Art to Change the World at the California Building during California Dreamin' Weekend!
The event will include an exhibition, affordable small works, Anya Achtenberg writing workshop, Borealis performance, food and beverages from Sen Yai Sen Lek, Mojo's Coffee, and music from Pony and The Royal Hiptites.
Together, we will explore divergent holiday experiences and seek to inspire people to be creative as we all discover how art CAN change the world!
EXHIBITION DETAILS
Opening Reception: Nov 1st 6-9pm
Exhibition/Event Activity: Nov 2nd 9am-9pm/Nov 3rd 12-6pm
Closing Reception: Nov 9th 5-7pm
Location: California Building, 2205 California St NE, Ste 201, Minneapolis, MN 55418
FREE AND OPEN TO THE PUBLIC
PARTICIPATING ARTISTS
Judy Onofrio, Nikki McComb, Yuta Uchida, Emily Forbes, Suyao Tian, Jill Stebbins, Wenwen Liao, Ann Meany, Andrew Braunberger, Barbara Rogers Bridges, Layl McDill, Candy Kuehn, Malcom Potek, Linda Lade
Installation Artist: Shirin Ghoraishi; Writing Workshop with Anya Achtenberg; Music with Pony: Clifton Nesseth/Paul Sauey and The Royal Hiptites: Marko Fields, Craig Harris, Austin Gerth, Tim Jaques, Tom Crawford, Kristi MacKay; Borealis Dancers: Sara Karimi, Kelli Miles, Danielle Ricci
ABOUT ART TO CHANGE THE WORLD
Art to Change the World (ACW) is a diverse non-profit coalition of changemakers employing the arts in service of positive social change. Fundamental to the ACW mission is the notion that bringing art and the natural/social sciences together deepens cultural understanding and critical thinking, magnifying the potential for change. The purpose of our events and exhibitions is to provoke discussion, reflection and action on a wide variety of topics, and to nurture an empathic, socially-aware and action-oriented community. Participants leave our event with a token reminding them of their commitment to action, big or small.