Euphoria Short Works Festival – Apply This Month
February 23, 2022 @ 8:00 am

-

5:00 pm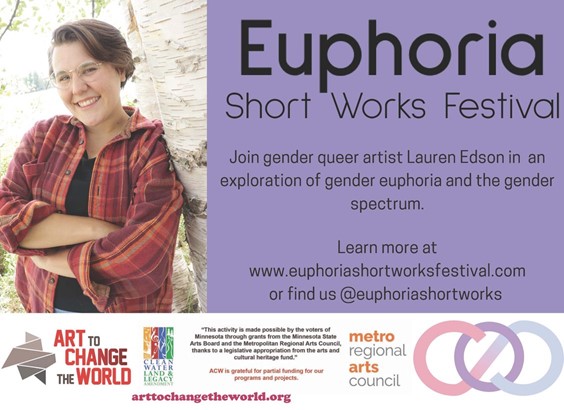 Two Ways to Participate in an Exciting Event!
Susan Hensel Projects is a coaching partner for this exciting project.
Euphoria Short Works Festival needs your help!
We are a short works festival celebrating gender expression of all forms.
Euphoria Short Works Festival is looking for a wide range of Minnesota resident artists to share their art in the festival. Act ideas may include but aren't limited to dance, poetry, short films/plays, and musicians. All art must be themed around gender euphoria and each act will receive a $100 stipend.
You can also help us by filling out our survey.
As part of this project, we are collecting local/national/international data about people's knowledge and experience with the gender spectrum and their gender identity. This anonymous data will be used to create artwork for the festival. Those that take the survey have the option to be entered in a drawing to win a $50 Target Gift Card!
Please share this information with your network.
Euphoria Short Works Festival is a part of the "Coaching Project for a Better World", by Art to Change the World.
Application Form
https://docs.google.com/forms/d/e/1FAIpQLScNFNh22nsjVZCsCPSg7q3ulbXr7okcBELaqmg1Jh3LWBJyZA/viewform?mc_cid=6a0f0f2376&mc_eid=376f29cdbe
We need your help! Complete this Survey.
https://docs.google.com/forms/d/e/1FAIpQLSer-UgIdEENgXyOwNoOUJMG1F2RHn8pLUPIwMlhgsS3GjzcQw/viewform?mc_cid=6a0f0f2376&mc_eid=fc82eaa74d