Call for Art Deadline: Blood on the Pavement
November 24, 2021 @ 8:00 am

-

5:00 pm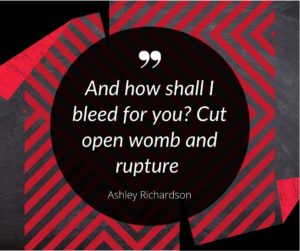 CALL FOR ARTISTS
Exhibit: "Blood on the Pavement"
Location: TBD
Showing Dates: May 2022
Deadline to Apply: Wednesday, November 24th, 11:59PM CST

"Blood on The Pavement" is seeking local Twin Cities artists! Scheduled to open May 2022, the exhibit will focus on addressing violence against black bodies, both verbally and physically, from micro aggressions to police brutality. The exhibit will also explore violence against women's bodies and those identifying as women, as well as other intersections of identity.
"Blood On The Pavement" is open to 2D or 3D works from artists of all backgrounds, but will give priority to voices from BIPOC and LGBTQ+ communities.
Artists will create work reacting to poems written by the organizer and project manager, Ashley Richardson. Please note there is no "correct" interpretation of the poems. The organizer is simply looking for artists to create pieces that express the feelings and thoughts inspired by her words.
PAYMENT
All artists will receive a minimum stipend of $100.00 to offset the cost of materials, and a free $50 membership to local non-profit, Art To Change The World. Featured artists will also have the opportunity to sell their work during a month-long exhibit or donate their work to a silent auction. Auction earnings will go directly to organizations supporting, protecting, and bettering black lives.
HOW TO SUBMIT
Please email questions or submissions to Ashley Richardson at richardson.exhibits@gmail.com. Submissions should include:
Name, address, email, phone, websites, social media platforms, etc.
Three to four samples of your work (JPEG Format)
A brief statement of interest, including: a few sentences about your approach as an artist and the works submitted, as well as your reason for wanting to contribute to the exhibit.
Deadline: Wednesday, November 24th, 11:59PM CST
"Blood on the Pavement" is supported by ACW's Coaching Project for A Better World.  Other team members include filmmaker and educator, Deacon Warner, and environmental, health and safety expert, Dominique Zellmer. Read More about the Coaching Project for a Better World: https://www.arttochangetheworld.org/coaching-project-for-a-better-world/