ACW Change Agent Celebration
October 5, 2019 @ 1:00 pm

-

6:00 pm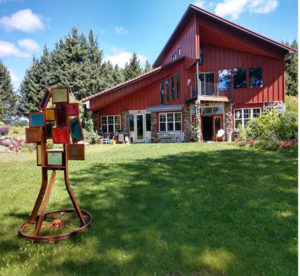 October 5, 2019  1:00-6:00
ACW Change Agent Celebration
Introducing Frank Stone

137 7th Ave, Clayton,  WI  54004
Major Donor ($200) Thank You party hosted at the lake farm of ACW Board member, Lynn Olson (MN Judge, retired) and ACW member and artist, Frank Stone.
Continuing our "ACW Family" model, members are encouraged to bring side dishes with recipe cards to share.  Beer, Wine, Brats and all the fixins' are provided.
Transportation organized by ACW.
Join at: https://www.arttochangetheworld.org/product-category/support-us/
Limit 25. RSVP to info@arttochangetheworld.org
$200 Benefits                  
Belonging to an international and diverse networked community
Participating in  film/book and workshop/discussion
Listing in the membership directory
Use of ACW as Fiscal Agent for grants Invitation to Lynn Olson and Frank Stone's Lake Farm on Oct 5, 2019
4 Artist-led studio tours and discussions per year
ACW t-shirt and hot beverage cup
$500 Benefits (Everything above plus):                                                                                                       
ACW Tote                                                                                           
1 VIP ticket to all events
Dinner/gathering with Patrons, Executive Director and Board.

2019 Chowdah Feed October 12 at 5:00pm at the unique home/studio of ACW Director, Barbara Bridges, who is a Maine native
____________________________________.                   
* Cambridge educated philosophy professor, Tim Ingold, holds a unique theory on artmaking. Dr. Ingold suggests that artists are simply "intervenors" on the journey of the particular material and/or objects that the artist manipulates.
Frank Stone exemplifies this approach as he saves metal objects from the scrapyards and re-purposes them embedded with a new meaning and message.