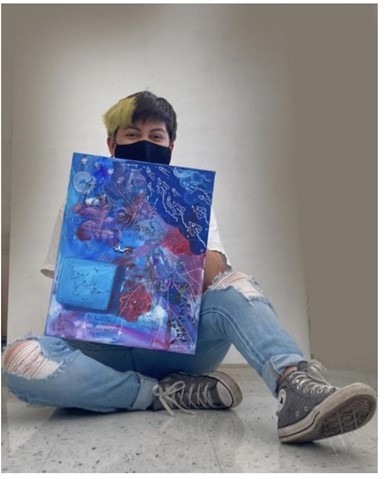 Aristóteles Carbajal (Ari)   Aristóteles Carbajal (Ari) loves art— he prefers painting. Though young and often tired, when inspiration moves their spirit, Ari attacks the canvas. He challenges the viewer to look deep into his art. Where a lot of good things happen! A lot of these "good things" were inspired by Ari's sister who told Ari they sucked at drawing. This early criticism went on to fuel Ari's choices in subject matter, medium and composition. Ari challenges any and all canvases. Look deep within their world, there is so much to see.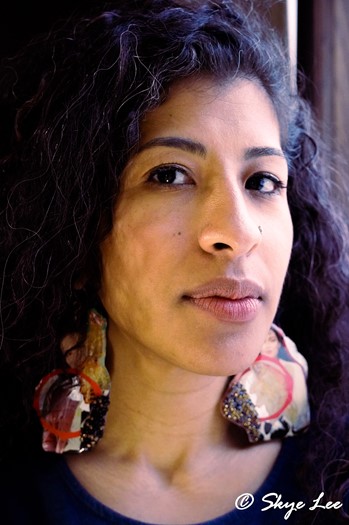 Azania Tripp  Whimsical one-of-a-kind joy is the magical superpower you will receive by wearing wearable art. I'm Azania Tripp (She/her). I make mixed media collage, one-of-a-kind wearable art, and visual art pieces out of recyclable material. In 2016, I was living in Bed-Stuy, Brooklyn, New York doing various community organizing social work positions. I was feeling defeated by the systemic structures that impacted the individuals and families that I had the opportunity to work with. I started collaging wearable art because I needed to wear something on my body that made me feel stronger than how I felt. I started to design images of BIPOC (Black Indigenous, People of Color) and LGBTQ+ (Lesbian, gay, bisexual, transgender, queer) in spaces of joy and existing in future universes and beyond. When I make wearable art pieces, I get to create my own utopian where I can show that I am a person that holds many intersectionalities of being Black/ African American, Singaporean Eurasian, pansexual, woman, and more.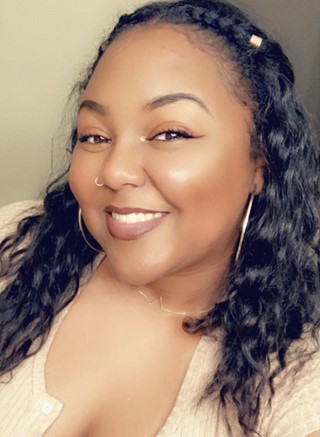 Briauna Williams  Briauna Williams, Minneapolis native, Assoc. Degree in Graphic Design Self taught acrylic artist, muralist, street artist, published illustrator, community engagement artist and teaching artist. Using paint to tell stories. Stories of struggle, resilience and beauty. Using art as a tool for healing myself and my community.  I am inspired by black and brown people, spirituality, nature, and emotions.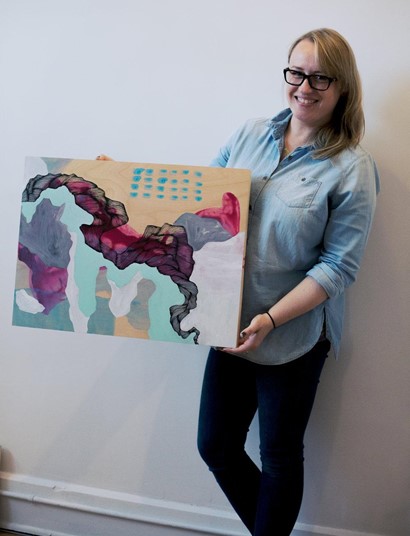 Cory Favre   Cory Favre is a visual artist working in Roseville, MN. She works in oil painting and drawing. Cory graduated from Ball State University with a degree in Studio Art with a focus in drawing and Interior Design. She attended the Women's Art Institute in 2019 and was awarded an Artist Initiative Grant by the Minnesota State Arts Board in 2020 for her White Knuckled Project and a Minnesota State Arts Board Creative Support Grant in 2022 for her work on motherhood. The White Knuckled Project is an installation of 100 paintings of items or plans women, LGBTQIA+ and femme identifying folx carry with them for safety while they are out of their homes.
Her work is inspired by politics and social issues, particularly topics affecting women. By using bright colors, humor and approachable imagery, Cory is able to engage her audiences in difficult subject matter. Her latest series deals with motherhood, postpartum depression and anxiety and feeling unseen   www.coryfavre.com
A "Drew" Hammond   was born on the west side of Baltimore, Maryland in 1964. His work focuses on expressing the people of the African American diaspora, which is an important and personal undertaking in a society filled with disregard. Of his medium versatility, his most expressive works, his collages, provoke thought and create visual disputation and resolve.
His work is currently on exhibit at the Ramsey County Courthouse in St. Paul, and in Edina, Minnesota. In February 2020, he exhibited at the Unitarian Universalist Church in Wayzata, MN, and was a featured guest exhibitor in the Solar Arts building hosted by acclaimed local artist, James Nutt.
In March 2020, Drew and his wife, author and visual artist, Beverly Tipton-Hammond launched Berries on the Vine Art Gallery in the Northrup King Building in Northeast Minneapolis. In June 2021, "Berries" became "Tipton-Hammond Arts Center" showcasing visual arts, dance and music performances. In October 2021, Tipton-Hammond Arts became a part of the Community Commons at the Mall of America in Bloomington, MN where their art and brands are showcased and sold.
In the summer of 2020, Drew participated in making the "Black Lives Matter" mural in Minneapolis sponsored by the Minnesota African American Heritage Museum & Gallery (MAAHMG), and a two-time participant in the Art Connects Us billboards project sponsored by the Hennepin Theater Trust in conjunction with Clear Channel Communications. In 2021, Drew participated in the Youth Curator Program at the MAAHMG where he taught "collage making." June through December 2021, Drew's art was featured in the "Absence of Justice" exhibit at the MAAHMG and recently became one the principal artists in the AHHA (Artistry, History, Humanity, Action) a Social Justice Collective co-founded by his wife, Beverly.
Drew and his wife hosted a "Social Justice" exhibit at the Northrup King Building in February 2021 and drew in over five hundred onlookers. Drew, the writer also plans to release a book of drawings and Haikus called "Opulent Beauty" and a long-awaited graphic novel called "A Bully's Nightmare." Drew and his wife reside in St. Paul, MN
To purchase art please contact:   Kim Forehand (Rep.)
301-520-0529 or email at   dreammodeagency@gmail.com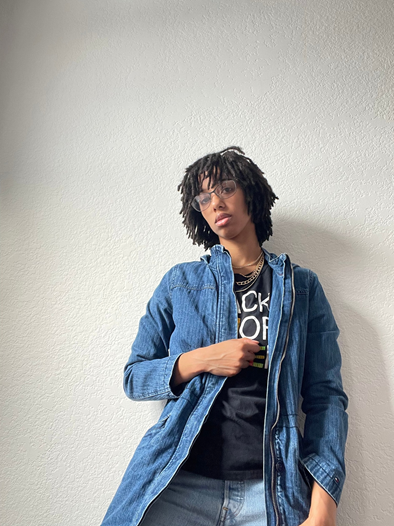 Elizabeth Ash   Elizabeth Ash is a writer who deeply values collaboration across the arts. She has received grants from the Minnesota State Arts Board (2020) and is currently participating in Art To Change The World's Coaching Project, where she is curating an exhibit combining visual art and poetry. Ash is also curating an exhibit, scheduled to show at the Friedli Gallery and Studio in September 2022, to spark conversations on violence against Black bodies. Ash is a born and raised New Yorker, and a Twin Cities transplant. She has learned (with ease) to call both home.   FB / Twitter: @ashwritespros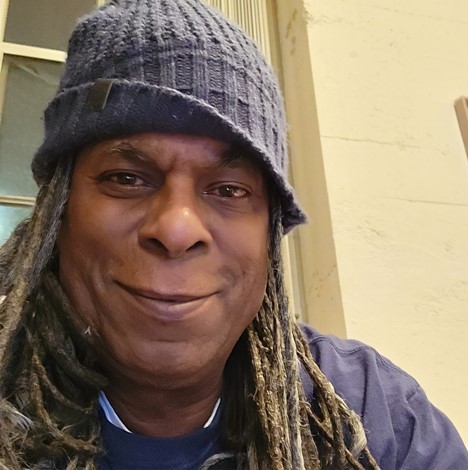 Lyle Ferguson   A native of upstate New York, Lyle Ferguson's career as an artist began at the University of Vermont. There his work was profoundly influenced by Paul Achenbach, a world-famous sculptor on the university faculty. Ferguson was awarded a Bachelor of Fine Arts degree from Vermon in 1977. He continued his studies with graduate work at the University of Minnesota. An active participant in theater in the Twin Cities since 1978, Ferguson was one of the early members of the Penumbra Theater in St. Paul.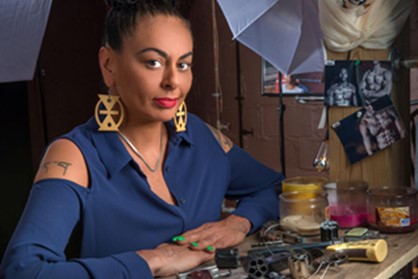 Nikki McComb   Nikki McComb's public safety campaign titled  #ENOUGH uses art as a catalyst for change and social disruption. Taking on the trenchant problem of illegal firearms, McComb uses photographs and video to reach people from the street level to the legislative arena and to help provide communities an outlet where they feel safe enough to seek help, empowered enough to give help, provoked enough to work harder to unify, and unified enough to make change collectively through art. For seventeen years, McComb has applied her artistic interests and skills to working relentlessly in North Minneapolis and surrounding communities in youth and family achievement. In addition to being an art educator, she has organized exhibitions, including Art Is My Weapon, a program whereby local artists select decommissioned guns to then create new work for display. McComb is  a 2017 recipient of The Jerome Hill Artist Fellowship, a 2016 recipient of a Micro Grant for photography and a 2014 and 2015 recipient of several community leadership awards.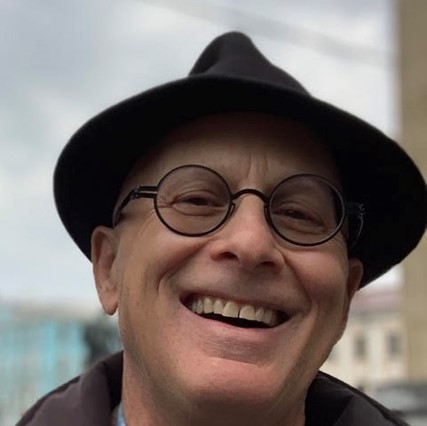 Owen Brown  Owen Brown was born in Chicago, trained as a classical musician, took his first art class at 23, and much of what he's wanted to do since then has been paint. This hasn't stopped him from living and working all over the world, mastering a half dozen languages, running start-ups in Silicon Valley, and spending time in a jail in Thailand. Brown holds degrees from Yale College and the University of Chicago, and was a degree student at California College of the Arts. He lived for over 30 years in San Francisco, where he was represented by Meridian Gallery. He now lives in Minneapolis.
Brown has exhibited in juried shows and solo exhibits throughout the United States, Europe and Canada. His works have been acquired by the Fine Arts Museums of San Francisco, the Minnesota Orchestra, the Nature Conservancy, and the Weisman Museum of Minneapolis, and can be found in collections in this country, Europe, and Asia. Brown has had residencies at Air Le Parc in France in 2017, and at the Land Institute in Kansas in 2018, where he created his first installation: "Units of Measure."  He is represented nationally by Holly Hunt and Gallery 13, he shows regionally at Veronique Wantz and Grand Hand, and has collaborated artists of other disciplines, such as Emily Wolahan, poet, and Anat Shinar, choreographer.
His art has been reviewed or published in the San Francisco Chronicle, Vostos, the Dew Drop, the Exeter Bulletin, Aesthetica, The Land Report, A2, F3LL Magazine, Wild Roof Journal, Beyond Words, Closed Eye, The Space Between the Stars, and Paragon. Meridian Gallery Press published a monograph of Brown's work for the opening of his show "Ideasthesia." His work was also included in the Society for Art Publications of the America's final publication: "Trees of the Field." he was an invitee at Art Prize Nine and invited to show at the now-cancelled 2020 Kochi Biennale, in Kochi, India.
Owenbrownartist.com   IG::owen_artist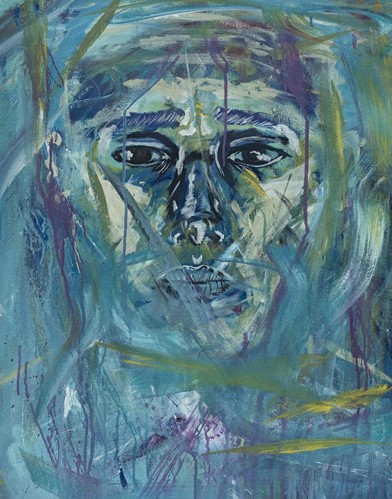 Sebastian Rivera Cintron    Sebastian Rivera is a multimedia artist and community leader, of Puerto Rican descent. He has organized at local and national level for the past 7 years in different capacities, such as grassroot organizer, national trainer and legislative lobbyist. His Public art focuses on the collaborative process with marginalized communities in order to showcase and depict their every day dreams and struggles. He hopes that his art will challenge and encourage others to think critically of their individual power, in order to find your best self.
Instagram: SARC.INC   Email: sriveracintron@gmail.com