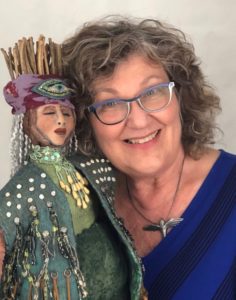 Barb Kobe is a Mixed Media Artist, Professional Teaching Artist, Author, Mentor and Creativity Coach. She has a BA in Psychology with an emphasis in expressive arts, as well as, a Practioner Certification in Neuro Linguistic Programming. She is trained as an ARTbundance Creativity Coach and a Licensed Journey Path Facilitator.
Barb Kobe is a Minnesota one-of-a-kind art and healing doll artist. She was a very sensitive child who found great comfort making art and playing with dolls. When she had children of her own she learned about emotional intelligence as she taught her children about their feelings. She developed and manufactured a set of puppets that helped in the expression of feelings. While making them she noticed that as she would think about that feeling, where she felt it in her body and notice where she was expressing it in her life. She shared her creations with over one thousand children in elementary schools and learned that "when I hold a feeling doll in my hand or lap, in other words, outside of my body, the children would easily share a feeling story".  Barb transferred this awareness to her own personal feeling, and healing dolls and has been making her emotional dolls ever since. Emotions and healing are her primary sources of inspiration and drive her doll and figurative art. She says, "My dolls are figurative sculpture and emotional metaphors that express feelings, beliefs and connections to body, mind and spirit.  Sometimes I begin with a feeling, a struggle, or a wish to visualize some internal and invisible energy.  I do this to visually speak to it and to develop a relationship with a hidden aspect of myself.  At other times I simply delight in the playing with the materials, colors and shapes, seeing what comes from immersing myself in the creative process.  All of my dolls mirror some aspect of hidden personal beliefs and stories."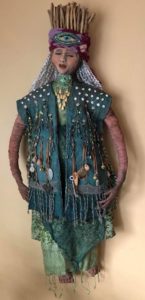 In 1999 during her final class at Metropolitan State University in Minnesota, she wrote a research paper on the subject of doll making and healing.  It was here that she found her passion on the subject and while writing , designed a curriculum calling it https://www.pinterest.com/bkobe/. After graduation she began to offer in person classes and retreats based on the curriculum and began teaching an online group called Medicine Dolls.  Interview at Robbin Gallery Interview
While Barb Kobe's art and healing dolls have received of many ribbons and awards in art gallery shows, she loves to teach others the transformative power of art and making these emotional healing dolls for themselves.
Barb calls herself a feminist as well as an ecofeminist. She sees her work as guiding, modeling, mentoring and supporting women toward reconnecting with their intuition, bodies, emotions and wisdom using creative processes. She says, "I teach how to make figurative, symbolic, meaningful sculptures and art that allow a woman to embrace, nurture, and connect with her feminine wholeness, wisdom and power – and connect with the environment."
She believes that making a three dimensional figure, a doll, is like holding yourself in your hands.  "It can be more powerful and transformative than making a two dimensional piece of art," she said.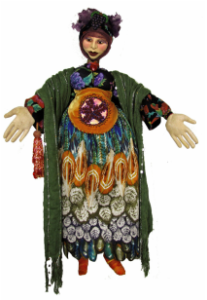 Ten years ago Barb began to study The Hero's Journey, written about by Joseph Campbell, and is the common template of a broad category of tales that involve a hero who goes on an adventure, and in a decisive crisis wins a victory, and then comes home changed or transformed. She designed an art making curriculum called The Creative Journey that included making a large collaged and painted game board and small dolls, or figures of the Hero and characters the Hero meets along the journey. A few years after that she met, Maureen Murdock, author of The Heroine's Journey and saw the value of using her Creative Journey with her female clients and audience.
Barb is a WARM (www.thewarm.org) mentor and loves introducing her protégées to the Heroine's Journey to guide them through the empowering process of discovering their authentic creative self and voice.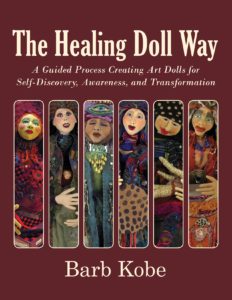 In 2018 Barb's book The Healing Doll Way: Making Art Dolls for Self Discovery, Awareness, and Transformation will be published. The book is based on her curriculum, gathered wisdom and students' stories
View lots of photos of her dolls and see and listen to interviews posted on her website
Why I joined Art to Change the World.
Belonging to a tribe of creative people who want to create change in the world with art
Apply for grants to do research in developing art making curriculums
Larger audience of exposure for my book and work in art making and healing
Also am interested in ecofeminism and ecopsychology.  http://www.soulcraft.co/essays/ecopsychology.html
Books by Carolyn Baker, PhD
Savage Grace with Andrew Harvey
podcasts on the New Lifeboat Hour
interview on https://vimeo.com/249559915
Collapsing Consciously: Transformative Truths For Turbulent Times which is preceded by Navigating The Coming Chaos: A Handbook For Inner Transition (2011) and Sacred Demise: Walking The Spiritual Path of Industrial Civilization's Collapse www.barbkobe.com
https://www.facebook.com/BarbKobeArt/
Testimony
Greetings from New Zealand!!!
I want to tell you how much reading and working on your book has inspired, delighted, given wise counsel, motivated me to read more from, from dollmaker Pamela Hastings, read the book Memories of our Lost Hands and most of all touched my heart. I look at my dolls and it surprises me that I made them. It feeds something deep within me. This need to express, make hands, join body parts together into a whole is so symbolic for me of trying to find peace and bring pieces of myself together. This patchwork of life, of roles, woman, mother, wife, lover, daughter, sister, friend. How your work helps me to honour all of those parts and still hold onto what is really precious to me.
Thank You for all your work. For helping all women join our hands together across the world and celebrate who we are.
Kindest Regards
Jacqui Somers
Christchurch
New Zealand