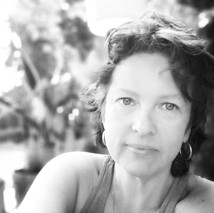 Rebecca David was born in rural Pennsylvania and currently resides in Southside Minneapolis. She began her formal education at Edinboro University of PA and completed a BA in Art and BS in Business Administration at Waynesburg University in Pennsylvania.
She is a firm supporter of the ADA, STEAM initiatives (Science Technology, Engineering, Art, Math) and the belief that ALL children deserve the opportunity to bring their creative voice forward no matter what race, culture, creed, ability or financial status.
Rebecca's newest body of ceramic work is both functional and decorative, a mixture of utilitarian wares and wall pieces. This work expresses the tension between the containment and release of emotion in dealing with societal conflict. Her return to painting in 2021 explores these same concepts along with her love of nature in simple botanical studies.
Prior to relocating to Minneapolis in 2016 she has participated in multiple artist residency projects through what is now known as the Pittsburgh Center for Arts and Media, held memberships with NCECA, Teaching Artist Guild, the PA Arts Education Association (conference presenter). She is currently a member of Art to Change the World, NCECA (National Council on Education for the Ceramic Arts) and an active volunteer for The Art Shoppe at the Midtown Global Market.  Contact:  Rebecca David justbeckydavid@gmail.com
Artist , Minneapolis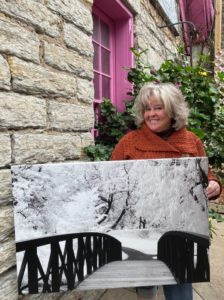 Natalie McGuire's art education began as a small child; she learned photography composition from her father.  Her Aunt Natalie fueled the creative side, allowing it to flourish.  She Attended Community education classes for basic photography in 10997/98, studied under Deidra Monk, later enrolled at Hennepin Technical college Digital Photography program, studied under Paul Sinkler, Tom Hanly, and Tim Grey until the program closed.  She's continued her education by attending one-day seminars with National Geographic photographers.  Continues her education by joining Wyoming Center for Arts, ACW (Art to Change the World), PRCBoston, Griffin Museum of Photography, NEMAA, and St. Paul Art's collective.
Networks with other artists sharing tips and ideas. Natalie is known for her Photozaics (which is a combination of her two loves, photography, and mosaics.  Start with photograph finish with mosaic frame).
Her artist statement says it perfectly:
Natalie creates multi-sensory wall art that engages your curiosity of what lies beyond; what you see is personal to you.  Creating art helps her connect with you, exhibiting Natalie's ability to make you feel like you are there with her. They inspire you to desire to touch her art, making you try to view it and feel it at the same time.  Natalie has always been a fan of Ansel Adams and Bob Ross' style, even though Bob was a painter, she loved watching his programs on the local PBS.  Really drove her to get out and be with nature.  Her parents loved to travel via RV when Natalie and her brothers were younger.  They believe the road trip was a part of the journey and they all got to see a lot of America that you just can't get from a plane.  Website: https://nmcguirestudio.com/
Artist, St. Paul, Minnesota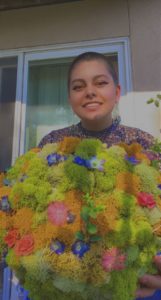 Aristóteles Carbajal (Ari) loves art— he prefers painting, Though young and often tired, when inspiration moves their spirit,Ari attacks the canvas. He challenges the viewer to look deep into his art. Where a lot of good things happen! A lot of these "good things" were inspired by Ari's sister who told Ari they sucked at drawing. This early criticism went on to fuel Ari's choices in subject matter, medium and composition. Ari challenges any and all canvases. Look deep within their world, there is so much to see.
Social media: Instagram @mossy_raccoon  Artfol  @mossy_possum TikTok @mossy_raccoon
Artist/ Intern     Stillwater, Minnesota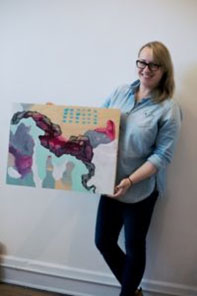 Cory Favre is a visual artist living and working in Minnesota. She has a BGS from Ball State University with focuses in Studio Art and Interior Design and is an alumni of The Women's Art Institute. Cory serves on the Board of Directors for the Women's Art Resources of Minnesota and is a member of the Northeast Minneapolis Arts Association.
Cory's primary mediums are oil and colored pencils. She is influenced by such artists as James Rosenquist, Kiki Smith, Jenny Holzer, CJ Hendry, and Nancy Spero. Her recent work lives in the space between sarcasm and snark, humor and serious. Social issues, politics and human nature are all inspiration for her work. She is most interested in talking about issues that particularly affect women and mothers.
In 2020, Cory was awarded an Artist Initiative Grant from the Minnesota State Arts Board for her White Knuckled Project. This project will consist of 100 small paintings of items that women carry with them to make them feel safe. Each image will be sourced from real women and what they personally do to ensure their physical safety when out of the home. The final exhibition of this installation will be held at the Banfill-Locke Center for the Arts in November 2021. To learn more about this project, please visit www.coryfavre.com/whiteknuckledproject.