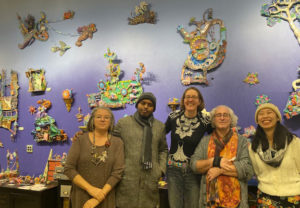 Dec 14, 2019 board meeting at new ACW  board chair, Layl McDill's,  studio with board director, Barbara Bridges,  Mohammed Bulhan, Layl, Craig Harris and Wenwen Liao Manfred.  New 2020 initiatives:
–  ACW Ambassador Program
– The 4 R's: Rethinking, Reusing, Refurbishing, and Recycling Art Contest
– ProVocation Studio Discussion Events
– Symbiotic Coaching Project Internship
– Networks of Action and Hope Workshops   Join us!!