Mojo Coffee Gallery  Fundraiser Artist Participants June 25th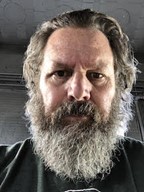 Greg Volker is a sculptor, potter, musician and builder. Born in Stuttgart, Germany and grew up in St Louis Park, Mn. Attended the University of Minnesota for his BFA and left Minneapolis for San Francisco in 1990 to attend graduate school at San Francisco Art Institute. He spent 28 years in SF, Oakland and Sonoma Valley and in 2018 he moved back to Minneapolis.
As well as his own work he has assisted and installed public works for other artists like Andy Goldsworthy, Dawn Freyling, Chuck Splady and John Roloff.
Website: gregvolkerarts.com    IG,FB @ Greg Volker Arts
---
Layl McDill grew up in Gillette, Wyoming where she began creating at a very young age. Her early works were dollhouses, marionettes and even an entire "Smurf Village".  Layl received her BFA in Illustration from the Columbus College of Art Design but she found it more exciting to make sculptural work and sell it through galleries and art fairs.
Layl lives in Minneapolis and is co-owner with her husband Josh Blanc of Clay Squared to Infinity, a tile and art studio and showroom in the Northeast Minneapolis Arts District.  She has two grown daughters.   She has exhibited her work around the country since 1994 at
galleries, art centers, festivals and museums.
Polymer clay has been her medium of choice using the millefiori technique and some mixed media materials added.  The theme of wonder permeates her sculptures that are covered with endless details.  Her work can also be found in numerous books and publications.
Social media: https://www.facebook.com/layl.mcdill  http://laylmcdill.com
https://www.instagram.com/laylmcdill
Linked In https://www.linkedin.com/in/layl-mcdill    https://www.tiktok.com/@laylmcdill   Twitter: @laylm  https://twitter.com/laylm  https://www.etsy.com/shop/laylmcdill    Youtube: https://www.youtube.com/user/laylmcdill
---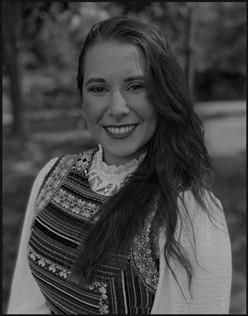 Madeline Kelner is a 2020 Graduate of the University of Minnesota Duluth, School of Fine Arts, with a BFA in Graphic Design, Studio Focus. Her passion is amplifying the voices of communities that need recognition, making their concepts tangible and accessible through Fine Art and Design. Madalina is interested in going into the field of Graphic Design and finding a way of combining it with her skills in photography and storytelling. She finds herself creating ways to help educate and start conversations about serious topics of accessibility and diversity. Access For All is a group Kelner rebranded and reawakened on campus and led for two years as president. With her creative solutions, she guided the development of a sensory friendly space in her University's Multicultural Center. After creating one successful sensory space, Madalina brought up her ideas to the UMD Kathryn A. Martin Library to consider doing the same. They were receptive and, with Madalinas guidance, they used a grant to update several study rooms. Both collaborations were recognized and inspired schools across the country to create sensory spaces for their students. Among other groups, Madalina was a passionate graphic designer and board member for the University ASL club, Hillel organization. She was also hired on to work with the Regional stormwater protection team on a seasonal project. Now that Kelner Has graduated, she continues to teach art classes at Southwest Super Summer Program for her eighth summer with Minneapolis Public Schools. In recent events, Madalina presented in Rimon's annual fundraiser, P'Chotchka. she used the opportunity to speak on a larger project coming up for her. A photographic book titled Tenderness, that communicates how invisible pain affects the human body.
(763)-360-7187                    madalina.com@gmail.com  Artist, Plymouth      FB: https://www.facebook.com/MadalinakPhotography
IG: https://www.instagram.com/madalinak_designs/     Artist, Minneapolis
---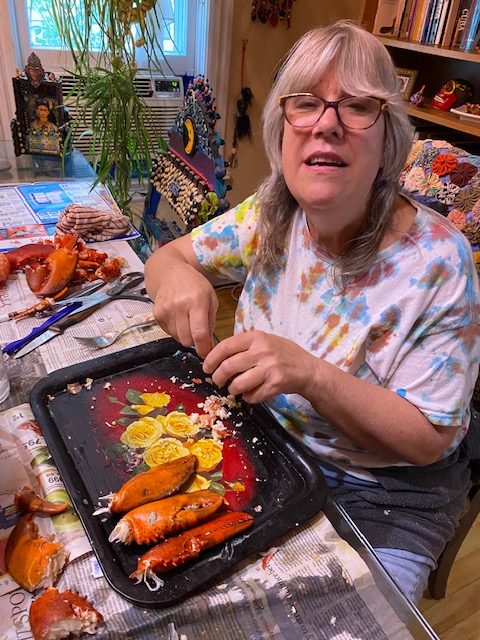 Debra Ripp
I am a native Minnesotan born in Mankato and based in the Twin Cities. I welcome you to come visit my studio in the Dow building and in the Creative Zone of St. Paul. The Dow building is on the Green Line of the Twin Cities Light Rail System~ Tobersonstudios,  2242 University Ave. W. #201B, St. Paul. MN 55114
Tobersonstudios is home to a broad range of spirited images by Debra Ripp in mixed media. Toberson is the doghead figure that you see in much of my work.  He is an original insignia character in my work, the guide to all of my imagery.
 I am Mixed Media artist which means I love to explore all possible media, anything that will make the image emerge stronger to obtain the voice it is meant to have. My favorite thing is to vacillate between media and observe how the image can transform and mature as it is manifested in different media, including 3D media.  Debra Ripp/ Tobersonstudios
---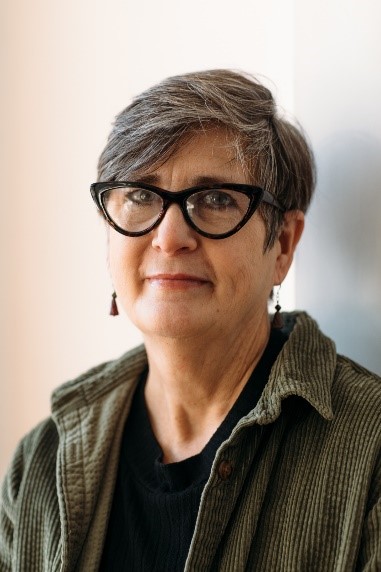 Nina Robinson
I am an emerging St. Paul based contemporary textile artist. For the last  few years I have been producing textile installations that have been  focused on sustainability and neurodiversity. The term neurodiversity was   coined to explain the differences in brain function and behavioral traits  within the human population. In 2018, my 23 year old son was diagnosed   with Autism Spectrum Disorder. ASD is a condition related to brain  development that impacts how a person perceives and socializes with  others, causing problems in social interaction and communication. The   disorder also includes repetitive patterns of behavior. My observations of   my son and his specific autistic traits, along with intensive research into
neurodiversity has fueled my current exploration into repetition, texture   and movement.   Utilizing repurposed clothing and my sewing machine, I create site specific  textile installations. The driving force behind using repurposed clothing is  my son and his repetitive behaviors. I spend hours mending his torn  clothing. The byproduct of this repairing becomes clothing that can no  longer be mended and can be recycled into my art. My artistic process  begins by deconstruction of a garment and then reassembling the pieces to create a figurative form. With my sewing machine, I then manipulate the surface of the piece with repetitive stitching that changes its texture and generates movement. The diversity of the forms highlights the individuality of people on the autism spectrum while maintaining their humanity. The site specific installations are meant to be interactive and sensory friendly. The bright colors and movement draw the viewer in and my intent is to open a dialogue about awareness and acceptance of neurodiversity. Read More:  https://www.artprize.org/nina-robinson 
---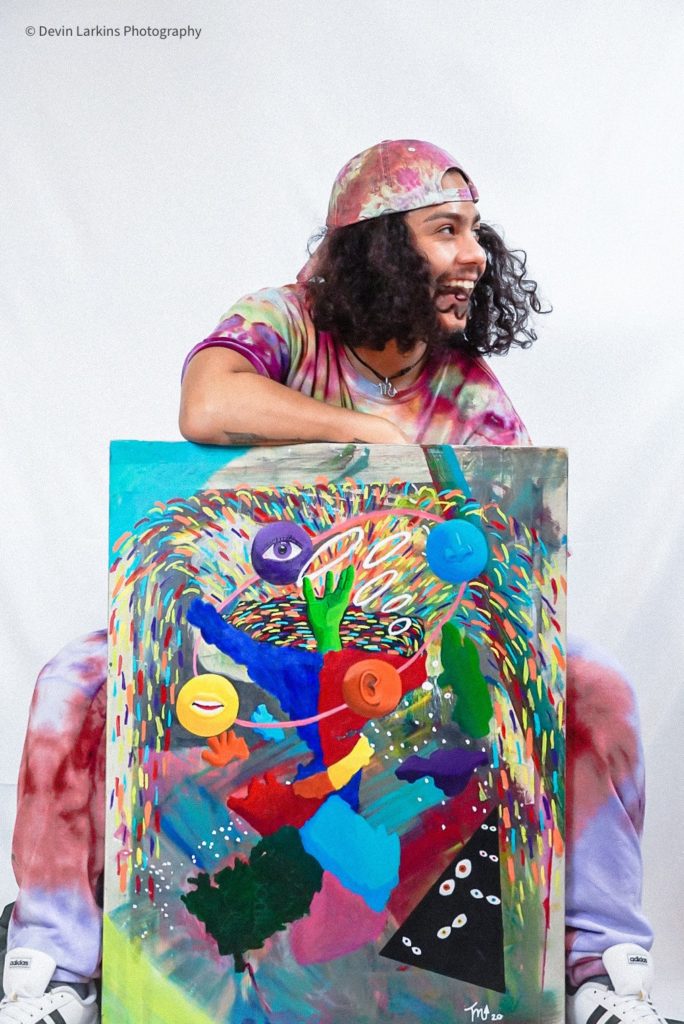 Brian Serrano Aka Scorpio
Scorpio is an International artist, specializing in Visual art. Using multiple skills for visual design such as Photoshop, Illustrator, Procreate, painting, and sculpting. while using his work to visually attract his audience the experience is more about the story telling, creating a portal to a world that may or may not exist. Working all across the country such as Florida, California, Colorado, Minnesota, and even international in Spain.
Diving into the art world to experience the thrills of human creativity is life changing I invite you to try it    Website: ScorpioRisingArt.com     
Email: ArtScorpioRising@Gmail.com
---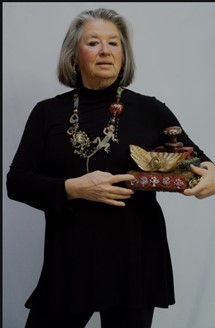 Barbara Bridges has been an artist and a teacher/college professor for over 40 years. Her social practice sculptures have been exhibited in Maine, Miami, the Virgin Islands, Maryland, Chicago, Mexico, Spain, Canada, and throughout Minnesota.
Bridges taught K-12 art in Minnesota, Maine, and the Virgin Islands. She was voted Art Teacher of the Year twice in Minnesota.
Barbara has partnered with various Minnesota institutions such as the Minneapolis school district, the Minnesota online high school, Perpich Center for Arts Education, the Walker Art Center, the Mpls. Institute of Art, the Weisman Museum, and the Minnesota Museum of Art.  The online curriculum site and discussion group, ArtsNet Minnesota, came out of those collaborations.
Barbara has served as a professor for twenty years at the university of Minnesota and Bemidji State University and has contributed in a variety of ways. Her appointment includes teaching Foundations of Education, Human Relations and Critical and Creative Thinking and also serving as the architect of the unique DLiTE (Distributed Learning in Teacher Education)  – a hybrid online K-8 teacher licensure partnership program and the FasTrack secondary initiative designed for previously degreed candidates who wish to teach high school. These programs were the first online teacher licensure programs in the nation.  Artist    Minneapolis, Minnesota and Zihuatenjo, Mexico   Read More
---
Brenda Litman
Aspects of nature communicate with us daily. Standing on the banks of the Mississippi or the rocky shores of Lake Superior, at one moment you may be struck by the soothing glistening ripples. At another moment you may feel the raw force of the waves. Even at home, one is constantly aware of changes in the weather, its pleasures and perils.
I am a Minnesota artist with a studio in the California Building.. My husband, Ted, and I have two sons. When our youngest was in high school, I returned to the University and earned my BFA and MFA in painting.  I subsequently taught Concepts in Visual Art in the Department of Art at the University as adjunct faculty from 1998 to 2008 and was recently a mentor for Women's Art Resources of Minnesota.