Description
Covid Mask
9"  x  12" Cotton, beads and charms
ALL silk with silk lining.
$40.00
Masks are Hand Made. One of a Kind.  $15.00- $40.00.  Thank you so much for helping support our project.  We give 50% of our masks away to essential workers who are once again marginalized because they can not afford designer masks!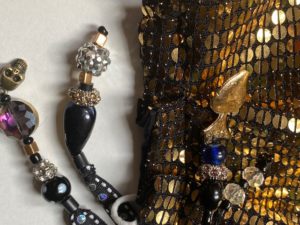 All masks include elastic which is tied in back with a ribbon which keeps mask from slipping and let's you wear around neck for convenience.  Some matching Adult and Children pairs.
Pricing explanation. Frida, Wonderwoman and Silk Bling fabric is very expensive, postage is $4.50, Cabochons are handmade and beading  is time intensive.  I am simply trying not to lose money.  Each mask has a pocket to insert a hepa filter-I use a square cut from vacuum bags.   Not included. Hand Wash.    Please reach out if we can create a custom mask for you or a friend. Your charms and your fabric. $40.00. Contact us to make masks for your serving  staff or  bridal party!  Click to view available masks:  https://www.arttochangetheworld.org/covid-masks-2/  Contact:  at drb@bridgescreate.com Read More about Barbara:  https://www.arttochangetheworld.org/barbara-bridges/
Click to enlarge pictures.