Mosaic & Mixed Media
I grew up in North Minneapolis, graduated from North High School. Seen my first friends get killed by Gun Violence when I was very young. A young friend killed over a game of cards. Next was a family with children who lived just two blocks down, the father did not put his gun in a safe place, the children were playing found the gun. One shot the other dead. My cousin also took his life because of PTSD he suffered in the Viet Nam War, who came home and ended it all. But it didn't stop there…. A friend of mine was stalked down and shot dead shortly after we graduated. The shootings continued with several shot dead within a six block range of my now neighborhood in NE Minneapolis. My older sister was held up many times as she worked in a grocery store in North Minneapolis. She was held with a shot gun to her head as she opened a safe and dragged around the store to each cash register to open each one. So this Art project meant so much to me, I really want the Gun Violence to end and End Now!!!
Some say move but you know what??
Minneapolis is my town, My city and is my life and I won't stand down!! I hope many of you will join me in the upcoming shows as we come together to stop the gun violence and the senseless shootings of innocent people.
Please listen to me…if you own a gun please keep it locked up. If you know someone is suicidal stop talk and get them help. If you know of someone that's dangerous turn them in, don't wait until another live is lost. It's time we all stand up to Gun.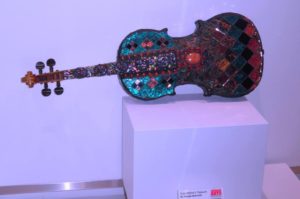 I have a Violin at the MSP Airport which will be on display until November 2017.  I am also a ART IS MY WEAPON MN artist and currently at the Gamut gallery in Minneapolis. I have previously shown my art at the Edina Art Center, The Kären Gallery, Flow Art Space, the Grain Belt Studios,NEMAA Fine arts show, Solar Gallery, Minneapolis. I've been with NEMAA for 6 years and open my studio for ART A WHIRL.
Violence!
One of my pieces!! Titled "59 Dead 500 Wounded".
As I sat down with my final parts of guns I had left over, a semi automatic rifle nose and a single shot gun parts, I watched the Las Vegas shootings unfold before me eyes on TV. So I decided my last tribute is for all the victims of such a senseless crime.
612-247-4913 For more information on Margie Rotondo ,
http://etsy.com/shop/RotondosHideaway?ref=hdr_shop_menu
Rotondos Hideaway Studio, 1026 24th Ave NE, Minneapolis, MN 55418, Art-A-Whirl Map Location:
https://nemaa.org/directory/5827
http://www.mnartists.org/artistHome.do?rid=256158
---
Margie Rotondo  I am a Mosaic/Mixed Media Artist.  I have a Violin "Grandfather's Treasure" that is now on Display at the MSP airport, which took home a 1st place ribbon.  I am also involved and working on a project for art is my Weapon, watch for upcoming Minneapolis shows.  I Upcycle 3D items into Treasures, from Violins, Guitars to Bowling balls. I also do Stained glass pictures and Jewelry.  I work with Mirror, Van Gough, Stained glass, Home made tiles, Cabochons, Shells and Beads.  Now working on a art display if Guns. Artist  Minneapolis, Minnesota    Read More